Grand illusion - the book of how to make it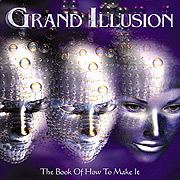 The book of how to make it
The big change. Changing name from Promotion to Grand Illusion. Skipping the horn section and and instead increase the guitars seemed to be a good thing. This albums is the break for the band. Suddenly the the pieces fell to place under there new band name Grand Illusion. Burrn Magazine in Japan give it 94 points and there were also a lot of great reviews in Europe.
This album also marks a significant change with Peter starting to sing higher than he ever would have dreamed of himself. From now the band also put a lot more work into the background vocals, to create what's since then have been the Grand Illusion signum; massive big background vocals.
Music: Anders Rydholm
Lyrics: Ola Karlsson

Click on the song titles below to listen to the songs!
Songs - Mp3 files
1. Feeling strangely fine
2. Don't wanna know
3. Boy's last night out
4. Accidentely on purpose
5. The book of how to make it
6. Whatever
7. 105 (and still running)
8. Parachute
9. Don't wait up
10. Desperate plea (Japanese bonus track)
11. Death of me
12. The hardest part
Musicians
Anders Rydholm - keyboards, bass, guitars, producer, arranger
Peter Sundell - lead and background vocals
Per Svensson - lead and background vocals
Christian Sundell - drums
Ola Karlsson - acoustic guitar
Robert Vadadi - guitar solos
Per Thuresson - guitar solo
Recorded and mixed in GodisPåScen studio, Växjö 1999 - 2001 by Anders Rydholm.
Japanese release:
Marquee/Avalon (MICP-10235)

European release
Escape Music Ltd (ESM063)
All rights reserved GodisPåScen AB.