muris varajic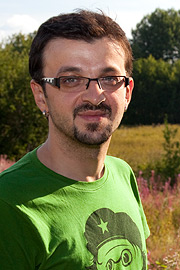 Muris Varajic is nothing but a guitar wizard. Check out his YouTube site and be amazed of the sheer brilliance of his technique and feel.
Muris is from Sarajevo in Bosnia and he works as studio and live musican.
The first song Muris and Grand Illusion worked together on was for the song "1999 Secret Object" that Grand Illlusion recorded for the 2010 Seikima-ii tribute album "Akuma to no Keiyakusho", Muris plays the guitar solo.
On the Prince of Paupers album Muris helps us out by playing guitar solos on 5 songs with a lot of soul and technique.
Check out the clip below and see Muris play the solo for "Under The Wire". One of the new songs on the Prince of Paupers album.

members
guests
Grand illusion live members
old members