ola karlsson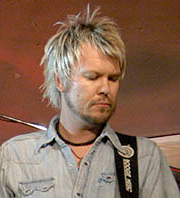 Ola "Alo" Karlsson joined Grand Illusion in 1998 for the second album "Yeah Yeah" while the band still was named Promotion. He also wrote the lyrics for one song on the first Promotion album (Nothing for granted).
Ola wrote lyrics for most of the Grand Illusion songs. Very often with his own personal twist and a lot of irony and self reflection. "Itch in my brain", "Poor Cow", Accidentally on purpose", "Feeling strangely fine", "Boy's last night out", "I refuse", are just a few examples of Ola's whitty pen.
Ola is credited playing guitar on the albums but he actually only played acoustic guitar on two songs; "Parachute" (The book of how to make it) and "Glad to see you go"(Yeah Yeah). But he filled a vital role writing lyrics to the songs.
members
guests
Grand illusion live members
old members